So, the Mini was picked up form my place on Saturday. The driver from the transport company came at 7:00pm and picked it up. He did a walk around of the car, marked the scratches, and was on his way just as soon as he could find the headlight switch.
In being a noob at auctions, I stupidly forgot to leave the auction sheet in the car so I had to mail it in to the transport company. They kept the Mini in their yard and waited for the auction sheet to be sent in.
The vehicle arrived at the auction today (Wednesday). It is a little disappointing that I forgot the auction sheet because that delayed the car two days. The auction is tomorrow and this leaves fewer people to notice my car before it goes up for auction tomorrow afternoon.
I am satisfied with the auction inspection that they gave the car but there were some surprises. I am always nervous about what they will find. The last car I sold at auction they mentioned animal hair in the car. It must be from my cat... but he has never been near my car.
So, I got graded a 4-C. That's respectable.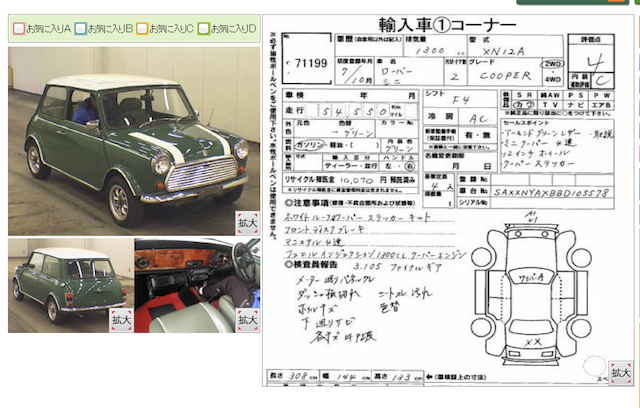 1995 Rover Mini Cooper
1300cc
Grade 4
Interior C
54,550 km
4sp, AC, leather
Repainted green
Sales points (written by me)
Almond green leather seats
Owner's manual
Mini Cooper 4 speed manual
12" wheels
Cooper decals
Notes (also written by me)
White roof and cooper decal kit
Front disk brakes
Manual 4 speed
Fuel injected 1300cc cooper engine
3.105 final gear
Report (written by the auction house)
Gauge area panel cracked
Dashboard cracks
Wheels scratched
Underside surface rust
Seat wear and dirty
Colour changed car
Various scratches, dents, paint wave
Diagram notes
Windshield rock chip
Trunk replaced
So, not bad. The trunk having been replaced was news to me but perhaps that was done when repainting it? Otherwise, it is quite accurate.
Tomorrow it will go up for auction and we will see if I can sell it. With such short notice at the auction, I hope there were enough interested people to have at least two serious bidders.
I will update tomorrow with the result.